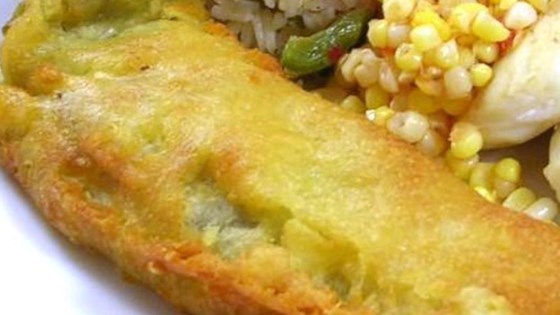 Chile Rellenos
30 min Main Ingredient: Cheese*Garlic Cuisine: American
Cooking:

30 Minutes Start to finish: 1 day min
Ingredients
1 1/2 cups of low-fat ricotta cheese
2/3 cup of crumbled feta cheese
2/3 cup of firmly packed grated sharp cheddar cheese
2 tbsp. of minced fresh cilantro
2 tbsp. of minced fresh oregano
1 garlic clove, pressed
1 tsp. of ground cumin
2 7-ounce cans of whole green chilies, rinsed
Roasted Tomato Sauce*
Fresh cilantro sprigs
Nutrition Facts
Calories
500
Directions
Step 1Preheat oven to 350 degrees F.
Step 2Combine all the cheese and herbs in a bowl.
Step 3Season to taste by adding a light pinch of salt and some black pepper.
Step 4Rinse the chiles and pat them dry.
Step 5Stuff the chiles with the filling.
Step 6Line up the stuffed chiles in a baking dish, cover, and then bake for about 15 minutes.
Step 7*As the chiles bake, prepare the sauce by roasting plump tomatoes over a grill or under a broiler.
Step 8Peel the tomatoes while still warm.
Step 9Pop these tomatoes in a mixer or a food processor and blend until liquefied.
Step 10Season with salt and pepper.
Step 11Pour the roasted tomato sauce over the baked chiles and garnish with fresh cilantro sprigs.