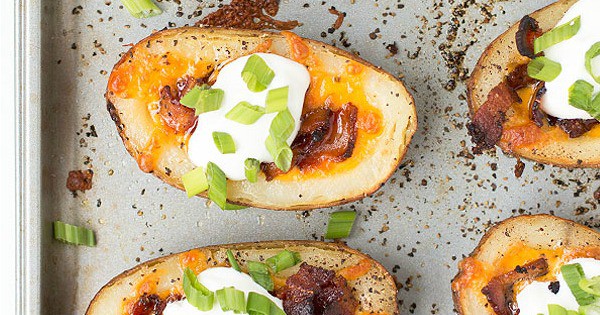 Potato Skins in the Microwave
These potato skins are a huge hit with the drinking crowd and you can crank these out in a very short time using your microwave. For parties, sports events and outdoor BBQs, your guests will eat these so fast you will start to wonder if you should have even made anything else. Remember to save the middle portion for mashed potatoes.
20 min 4 Main Ingredient: Cheese*Onion*Tomato*Greens*Vegetables Cuisine: American
Cooking:

20 minutes total Start to finish: 1 day min
Ingredients
4 large potatoes
1–2 cups cheddar cheese, shredded or
broken into small pieces
3 tablespoons Bacon Bits or 3 diced cooked
bacon slices, W-inch pieces
2 tablespoons thinly sliced green onion
garlic powder (optional)
sour cream (optional)
Nutrition Facts
per serving of 4
Calories
500
Directions
Step 11 Cut potatoes into wedges, lengthwise, 2 or 4 pieces depending on the size of the potato. Place in microwave-safe dish filled with water to cover potatoes.
Step 22 Cook on high heat for 7 minutes.
Step 33 Remove and test for doneness by poking with a knife. If youcannot scoop out the inside of the potato, return to microwave on high for 1 minute at a time until finished.
Step 44 Scoop out the potato so W-inch thickness remains around shell of potato.
Step 55 Sprinkle cheese over the top and return to microwave for 1–2minutes, until cheese is melted.
Step 66 Remove and sprinkle with Bacon Bits, green onion and top with a shake of garlic powder and a dollop of sour cream, if desired.