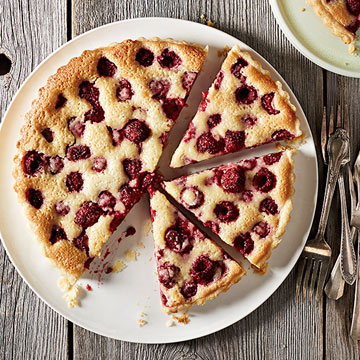 Almond and Raspberry Tart
Ingredients
1 cup all purpose flour
1/3 cup sugar
1/4 teaspoon salt
6 tablespoons (3/4 stick) chilled unsalted butter, cut into pieces
1 large egg
1 teaspoon vanilla extract
1/2 teaspoon almond extract
1/2 cup plus 2 tablespoons slivered almonds, toasted
2/3 cup plus 2 tablespoons seedless raspberry jam
2 1/2-pint baskets raspberries
Directions
Step 1Preheat oven to 375°F. Combine flour, sugar and salt in processor; blend 10 seconds. Add butter. Using on/off turns, blend until mixture resembles coarse meal. Add egg and vanilla and almond extracts. Using on/off turns, process until moist clumps form. Gather dough into ball. Using floured fingertips, press dough onto bottom and up sides of 9-inch-diameter tart pan with removable bottom. Press 1/2 cup almonds over bottom of crust; spread with 2/3 cup jam.
Step 2Bake tart until crust is golden at edges and jam is bubbling thickly, about 40 minutes. Cool completely on rack. Push up pan bottom to release tart.
Step 3Toss raspberries with remaining 2 tablespoons jam in bowl to coat. Top jam layer with berries. Sprinkle 2 tablespoons almonds around edge of tart.