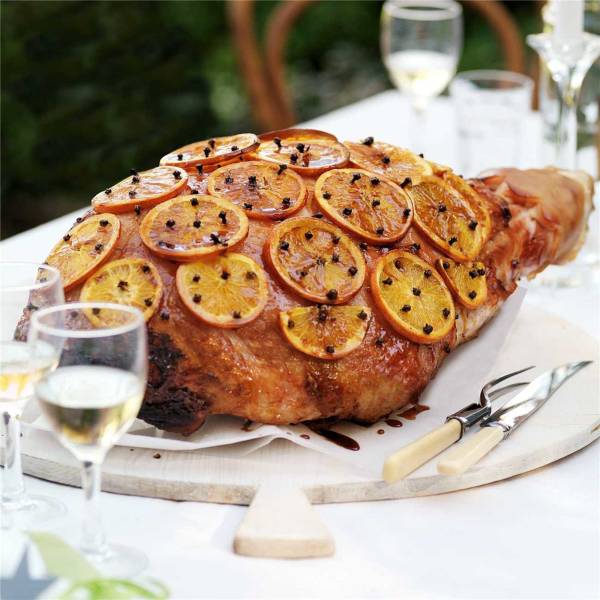 Christmas Ham
A wonderful Christmas ham recipe!
Main Ingredient: Fruit*Pork Cuisine: American
Ingredients
7 lbs. Ham, rind removed
whole cloves
1 lb. dark brown sugar
1 (12-oz.) can Coca-Cola
1 (14-oz.) can pineapple rings, drained and juice reserved
1 cup sweet Concord grape wine
10-12 maraschino cherries
fresh bay leaves, for garnish
Nutrition Facts
Calories
500
Directions
Step 1Heat oven to 325ºF.
Step 2Using a sharp knife, score surface of ham crosswise and lengthwise, forming a crosshatch pattern about 1/4-in. deep and 1-in. apart.
Step 3Place 1 clove in the center of each square.
Step 4Place ham, fat side up, in a double-layer disposable aluminum roasting pan.
Step 5Pat the brown sugar onto the surface of the ham. (Expect some sugar to fall into the roasting pan.)
Step 6Transfer to oven, and bake until brown sugar just begins to melt about 30 minutes.
Step 7Pour Coca-Cola over ham, mixing with melted sugar in the bottom of the roasting pan.
Step 8Baste ham with sugar mixture.
Step 9Return to oven, and bake for 20 minutes more.
Step 10Meanwhile, combine 1 cup reserved pineapple juice and wine in a small bowl.
Step 11Baste ham with pineapple mixture.
Step 12Bake ham for a total of 16 minutes per pound, basting every 20 minutes.
Step 13During the last 20 minutes of baking time, decorate ham with pineapple rings.
Step 14Use 2-3 toothpicks to hold each ring in place.
Step 15Center a cherry in the center of each ring, and attach it with a toothpick.
Step 16Transfer ham to a platter, removing all toothpicks.
Step 17Garnish ham with fresh bay leaves.