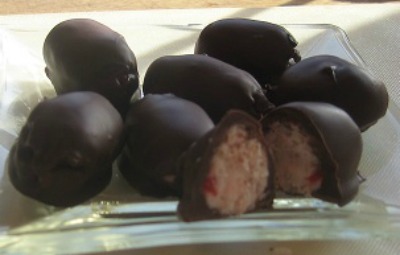 Christmas Chocolate Fruit and Nut Truffles
An irresistible indulgence or a luscious gift for a special occasion, these chocolate truffles will delight your family and friends.
1 min Main Ingredient: Nuts*Chocolate Cuisine: American
Cooking:

1 hour Start to finish: 1 day min
Ingredients
9 ounces bittersweet chocolate
2 tablespoons heavy cream
2 tablespoons cognac or rum
1 1/4 cups apricots, finely chopped
1/2 cup hazelnuts, finely chopped
2 tablespoons crystallized ginger, minced
2 tablespoons confectioners sugar, sifted
30 hazelnut halves
Nutrition Facts
Calories
500
Directions
Step 1Step 1:
Step 2Line a large baking sheet with baking parchment or aluminum foil.
Step 3Step 2:
Step 4In the top of a double boiler over low heat, stir 4 ounces of the chocolate until melted.
Step 5Step 3:
Step 6Remove from the heat and beat in the cream and cognac. Blend in the apricots, chopped hazelnuts, ginger, and confectioners sugar. Stir well to combine.
Step 7Step 4:
Step 8Chill the mixture, if necessary, until firm enough to handle. Form into 1-inch balls and set aside on a sheet of wax paper.
Step 9Step 5:
Step 10In the top of a double boiler over low heat, stir the remaining 5 ounces of chocolate until melted. Remove from the heat.
Step 11Step 6:
Step 12Using a fork, dip each truffle into the melted chocolate, allowing any excess to run off. Place the truffles on the prepared baking sheet. Top each with a hazelnut half and chill.
Step 13Step 7:
Step 14When the chocolate has set, the truffles can be stored in an airtight container in the refrigerator for up to 1 month.