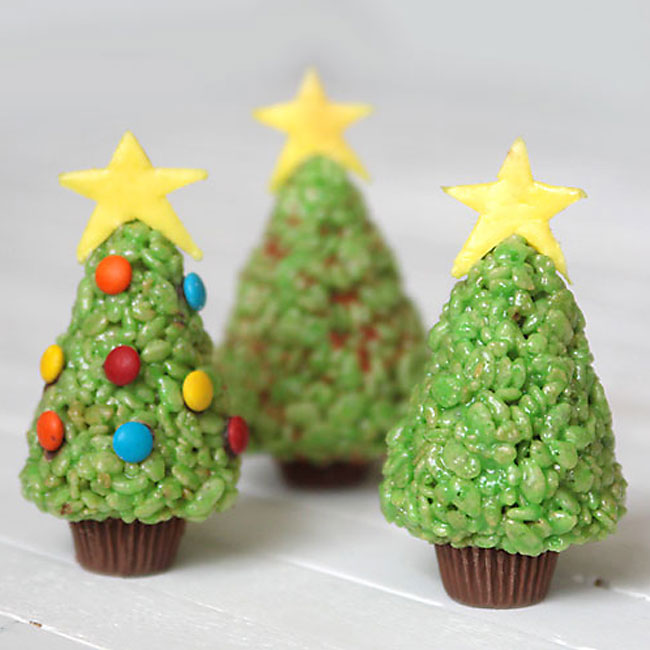 Christmas Crispies
This is such a cute and quick way to involve kids in the holidays. It's your basic Rice Krispies Recipe, but it's vamped up for the holidays!
0 min Main Ingredient: Butter Cuisine: American
Cooking:

about 10 minutes Start to finish: 1 day min
Ingredients
1 stick of butter
1 bag of miniature marshmallows
1 medium sized box of Rice Krispies Cereal
4 chocolate bars chopped into very small pieces
2 tbsp. milk
Red and Green Sprinkles
Non-Stick Spray
Nutrition Facts
Calories
500
Directions
Step 1Take a large pot and melt the butter. Add the marshmallows and stir until sticky and delicious! Then, stir in your rice cereal until it isn't too sticky anymore.
Step 2Let this set for a few minutes while you melt your chocolate with the milk in the microwave until smooth.
Step 3Take a well sprayed pan and smash your rice krispies into it until they are flat. Then, take some cookie cutters and cut out Christmas shapes. Quickly, dip these into your chocolate (careful, it can be warm), and place on the second greased pan. Quickly sprinkle with sprinkles and allow to cool.
Step 4Having children around to help you will make this much easier.