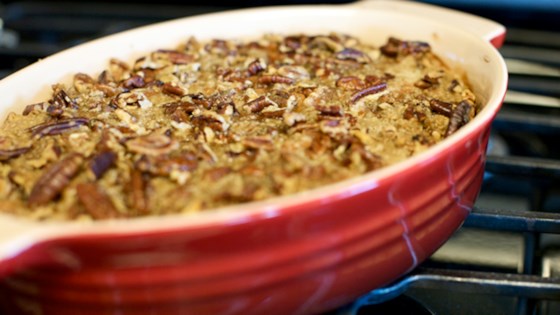 Christmas Sweet Potato Casserole
This recipe is a timeless classic without the crust
Main Ingredient: Egg*Nuts*Vanilla*Butter*Raisins Cuisine: Southern/Soul Food
Ingredients
2 cans of yams or 6 yams
1 cup of butter
4 eggs
1 tsp vanilla
1/4 cup of lemon juice
1 tsp orange zest
1 tbspn cinnamon, nutmeg, ginger
2 cups of brown sugar
1 1/2 cup of raisins
1 cups chopped apples
1 cup walnuts
1/2 cup marshmallows
Nutrition Facts
Calories
500
Directions
Step 1First, you open and mash all the yams into a puree.
Step 2Next, you mix in the vanilla and all the spices.
Step 3Next, sprinkle in the orange zest.
Step 4Stir vigorously, crack the 4 eggs into the puree and then blend in the brown sugar.
Step 5The very last step is to mix in the raisins, apples, and walnuts.
Step 6Once that is done spread everything into a greased baking dish and back at 450F for 20 minutes.
Step 7Once golden brown sprinkle with marshmallows and toast.