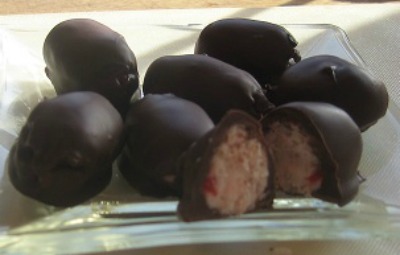 Mint Chocolate Easter Eggs
35 min 48 Main Ingredient: Chocolate*Sugar Cuisine: American
Cooking:

35 minutes Start to finish: 1 day min
Ingredients
1/2 cup butter, softened
1 teaspoon vanilla extract
3/4 teaspoon mint extract
1 (8 ounce) package cream cheese, softened
2 1/2 pounds confectioners' sugar
1/2 cup unsweetened cocoa powder
1/4 cup hot chocolate mix
1/4 chocolate milk powder
3 cups semisweet chocolate chips
2 tablespoons shortening
Nutrition Facts
per serving of 48
Calories
500
Directions
Step 11. In a large bowl, mix 1/2 cup butter, 1 teaspoon vanilla, and one package cream cheese. Stir in the confectioner's sugar to make a dough. Divide dough in half. Add 3/4 teaspoon mint to one half, and 1/2 cup unsweetened cocoa, 1/4 cup hot chocolate mix, and 1/4 cup chocolate milk powder to other half. Chill in refridgerator until easy to work with.
Step 22. Work into egg shapes with hands, place on wax paper, and chill until firm.
Step 33. Melt 3 cups chocolate chips and 2 tablespoons shortening, stirring until smooth. Dip the chilled eggs in the chocolate, return to the wax paper, and refridgerate for 30 minutes.