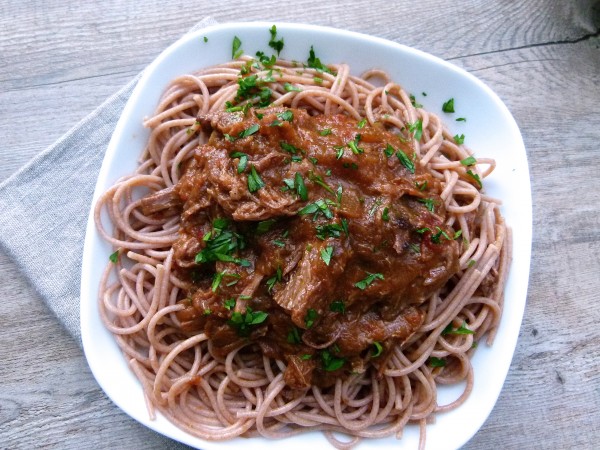 PASTA RIBBONS WITH SHREDDED BEEF BRISKET
0 min Makes 6 main-course servings. Main Ingredient: PASTA*RIBBONS*SHREDDED Cuisine: Italian
Cooking:

Active time: 1 hr Start to finish: 4 hr Start to finish: 1 day min
Ingredients
1 (2-lb) piece beef brisket
1/4 teaspoon salt
1/4 teaspoon black pepper
3 tablespoons extra-virgin olive oil
2 medium carrots
2 medium celery ribs
2 large red onions (1 lb total)
2/3 cup dry red wine
2 cups veal stock*
1 (14- to 15-oz) can crushed tomatoes
2 Turkish bay leaves or 1 California
8 garlic cloves
1 lb dried pappardelle or fettuccine
Nutrition Facts
per serving of Makes 6 main-course servings.
Calories
500
Directions
Step 1Put oven rack in lower third of oven and preheat oven to 325°F. Pat brisket dry and sprinkle with salt and pepper. Heat 1 tablespoon oil in a 6-quart heavy pot over moderately high heat until hot but not smoking, then add brisket and brown on both sides, about 12 minutes total.
Step 2Cut carrots, celery, and onions into 1-inch pieces, then pulse in 2 batches in a food processor until finely chopped.
Step 3Transfer brisket to a platter. Add 1 tablespoon oil and chopped vegetables to pot, then sauté over moderately high heat, stirring, until softened and golden, about 5 minutes. Add wine, stock, tomatoes, bay leaves, and 7 whole garlic cloves and bring to a boil. Return brisket with any juices on platter to pot and cover, then transfer to oven. Braise brisket, turning over once per hour, until tender enough to shred with a fork, about 3 hours. Transfer to a cutting board and cut into 2-inch chunks, then shred with 2 forks. Discard bay leaves from sauce and purée sauce in 2 batches in food processor or a blender (use caution when blending hot liquids).
Step 4Mince remaining garlic clove. Heat remaining tablespoon oil in cleaned pot over moderately high heat until hot but not smoking, then sauté garlic, stirring, 1 minute. Add meat and sauté, stirring occasionally, 5 minutes. Stir in sauce and season with salt and pepper.
Step 5Cook pappardelle in a 6-quart pot of boiling salted water until al dente. Drain, then return to pot and add meat sauce.
Step 6Cooks\' note:
Step 7Meat sauce can be made 2 days ahead and cooled, uncovered, then chilled, covered. Reheat before serving.
Step 8*Available at specialty foods shops. You can also buy Demi-Glace Gold and reconstitute stock using 2 tablespoons concentrate and 2 cups water; available at specialty foods shops and More Than Gourmet (800-860-9385).