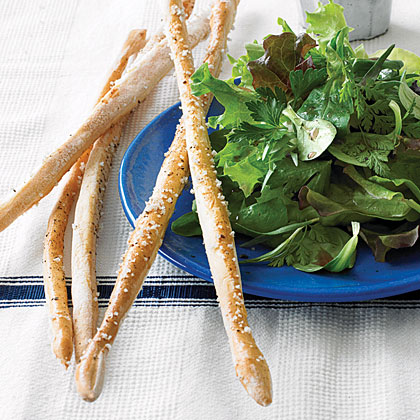 SALT AND PEPPER GRISSINI
0 min Makes 16 breadsticks. Main Ingredient: SALT*PEPPER*GRISSINI Cuisine: Italian
Cooking:

Active time: 20 min Start to finish: 1 hr Start to finish: 1 day min
Ingredients
1/4 cup rye flour
1/4 cup plus 1 tablespoon all-purpose flour
1/2 teaspoon baking powder
1/4 teaspoon baking soda
1/2 teaspoon sugar
1 1/2 to 1 3/4 teaspoons kosher salt
1/4 cup well-shaken low-fat buttermilk
2 teaspoons unsalted butter, melted and cooled
1 large egg white, lightly beaten with 1 teaspoon water
1 teaspoon coarsely ground black pepper
Special equipment: parchment paper
Nutrition Facts
per serving of Makes 16 breadsticks.
Calories
500
Directions
Step 1Whisk together flours, baking powder, baking soda, sugar, and 1/4 teaspoon kosher salt, then stir in buttermilk and butter with a fork. Transfer to a lightly floured surface and gently knead 5 or 6 times.
Step 2Preheat oven to 350°F.
Step 3Form dough into a log and cut into 16 pieces. Roll each piece into a 10-inch-long rope (if dough sticks, lightly flour work surface) and arrange 1/2 inch apart on 2 parchment-lined large baking sheets.
Step 4Brush breadsticks with beaten egg white and sprinkle with pepper and remaining kosher salt (to taste). Bake in upper and lower thirds of oven, switching position of sheets halfway through baking, until golden and crisp, 20 to 22 minutes total. Transfer to racks to cool.
Step 5Cooks\' note:
Step 6• Grissini can be made 1 day ahead and kept in an airtight container at room temperature.